Wow, this is a long time in coming so there are SO MANY BOOKS to talk about! Let's see....
First and foremost you should check out the
blog post
that Lindsey compiled out of our #DOTFReadAlong thoughts, because she did an AWESOME job! It's a work of art, I swear. And I can at least say that Daughter of the Forest was 75% of the reason I got out of my reading slump. (Who knew that reading like 15 picture books a day saps out any willpower to read books of your own?) The other 25% goes to: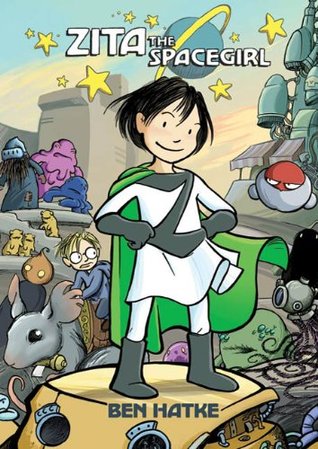 I have officially FINALLY finished my very first graphic novel! Much thanks to the girls over at
The Book Wars
as they're the ones who sent the book my way. I was at work when this came in and I immediately put down Daughter of the Forest, ripped the package open and devoured it in like an hour. And then continued reading Daughter of the Forest. Have I mentioned having the most boring job in existence has some great perks? In any case Zita the Spacegirl was pretty much everything I could have ever wanted. The artwork was like if you mushed Miyazaki (Spirited Away, Howl's Moving Castle, etc.) with Bill Watterson (Calvin and Hobbes), and it's basically like someone went down a checklist of all the things I really, really want in my stories.
1. Adventure
2. Sci-fi/fantasy world
3. Friendship as a focal point
4. Lovable genius/rogue
5. Diversity
6. Robots
7. Aliens
8. Giant Mice
Yes this is exactly what I would have on my list. Like word for word. I kind of REALLY want to bring it for the kids, but I think there are parts that might be too scary for the four-year old. So it looks like I'll be waiting on that. Speaking of, we're almost done with The Lion, The Witch, and The Wardrobe! I've decided on
From the Mixed Up Files of Mrs. Basil E. Frankenweiler
for the next book as it's perfect for a much needed break from potential emotional minefields AND it has the added benefit that I'm pretty sure the seven-year old won't have read it. Which means he won't spoil things (I'm not sure we've ever made it a week before he loses all his spoiler points) and I'll have the satisfaction of making HIM be the one who doesn't know things! Mwahahaha!
In other news, Jacqueline Carey remains queen of everything. I read
Dark Currents
immediately after ending my slump and god she's so amazing!! Can someone else please read her?! (Actually Stephanie if you read this I think this series of hers is up your alley) Style-wise this series is reminiscent of Jim Butcher's Harry Dresden series, so expect lots of supernatural fun. Which makes it even more impressive. The Kushiel series, which I've mentioned many, many times (SOMEONE READ THIS PLEASE SO I CAN FANGIRL WITH YOU) is most often compared with Game of Thrones. (Except, you know, way better.) How is it possible that both of these stories came from the same woman?! Part of what I love about Carey is what you can expect from her: diversity in pretty much any way possible. Trans, cis, gay, BI!!!, straight, races of all sorts. And it's so effortless! It's not like she spends pages hammering it in, it's just a quick mention here or there and it makes a WORLD of difference. Plus she's got a great relationship with her mom, and her bff plays an active part in her life. So. You know. Hitting all the things on my check list quota once again.
And I finished off the week with Terry Pratchett's
The Wee Free Men
. Guys...HOW HAVE I NOT READ THIS BEFORE?! My best friend from high school gave me this....actually I think I may still have been in high school when he gave me this. I have moved it with me from state to state...and still never read it. I don't know why it took me so long to read it...(I think it may have been his attempt to get me to love R.A. Salvatore which was just never happening. But by the time he introduced me to Harry Dresden, I should have started trusting him more by now!) It's everything I never knew I needed in my life. It's like Diana Wynne Jones meets Douglas Adams, and HELLO THAT IS LIKE MY CORNER OF BOOKISH THINGS. It's like my reason for being. Or at least blogging. But you know, same difference. Anyway, I feel like an idiot for putting it off so long. Luckily I know he gave me another Terry Pratchett novel I just have to find it (...it might be in a suit case since I haven't seen it as of yet), and I am going to remedy this until-now-undiscovered hole in my life.