So a few months ago I did a
Getting to Know You
Bloghop (hosted by the lovely ladies down at
Cuddlebuggery
) and it successfully introduced me to some pretty awesome bloggers. One of those bloggers is
La La
, who is just all around pretty fantastic and does all sorts of fun and creative stuff on her blog which guys should all go check out like immediately. She does this awesome feature (which I am doing...right now. You are reading the feature I am talking about as you get to these words lol) where you basically just talk about what you've been reading. It's super chill, - you just put it up whenever you have something to put up, and that's it! It works perfectly for me right now as I'm being a lot more selective about
TTT posts
and it gives me a way to put up my general thoughts about books, particularly ones I'm not going to review. Which, let's face it, is like all books since I don't really do reviews anymore lol!
So, let's get to what I've been reading. And what I've been reading mostly....
...is picture books. I've mentioned before (or at least I think I have) that I nanny two boys - a 7 year old and a 4 year old. When it comes to dinner time, we'll read a book while they eat - if they stop eating, I stop reading. IT'S SO GREAT! I'm going to be out there every night this week...so expect your Goodreads feeds to be absolutely bombarded with picture books (sorry!).
(Also speaking of the boys, we usually read a chapter book, but we've got a hitch. The 7 year old really wanted to read
The Lion, the Witch, and the Wardrobe
. Turns out it freaking TERRIFIES the 4 year old...I guess talks about being kidnapped by witches can totally do that, so we've put that on halt. I had originally planned to bring in
Series of Unfortunate Events
because I think the 7 year old would LOVE that...but on second thought I think that's a terrible, terrible idea for the 4 year old. The 7 year old reads wayyyyy above his grade level - he's read half of the
Odyssey
. And like a crap load of classics. So I need something that won't bore/terrify the 4 year old, but will entertain the 7 year old. I think we're finally getting bored of only reading Magic Treehouse, so any suggestions would be super welcome! I think I'm going to see if I can grab Edward Eager's
Tales of Magic
and see if that might be a good place to start for this week)
In reading these picture books, I'm rereading a bunch of ones I read as a kid and have come to some conclusions.
1. Dr. Seuss is overrated. Yes, his good books are
really good
.
Green Eggs and Ham
? The best. The other ones run between downright offensive (
If I Ran the Zoo
), to painful (I think my mouth went numb after Fox in Socks. I don't care how much the 4 year old loves it, NEVER AGAIN), to just kind of...dumb.
Shel Silverstein
does rhymes too, but they're pretty clever. I'll probably change my tune about this, but I've had a run of bad Dr. Seuss the past two weeks.
2. I like Berenstain Bears about as much as I did as a kid - they were ok but nothing too exciting. But now I've discovered they've got
religious ones
, and...no. Just no. I'm sorry, but your kite did not fly because of faith. It flew because of SCIENCE. I'm not against religious picture books, but I do think they need to use better examples. And in general the bears get their
solutions/resolutions
in
dreams
WAY too often.
3. That being said, I've been introduced to absolute gems like
Ella
and
The Day the Crayons Quit
, which I've never read before and are now instant favourites of mine.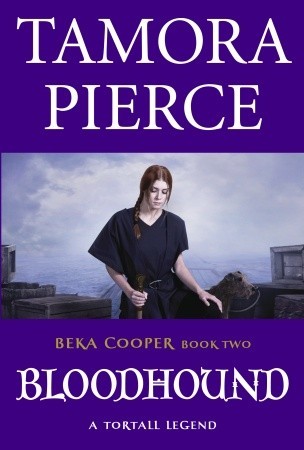 On the novel side of things, I've been listening to Tamora Pierce's Beka Cooper series in the car. I finished
Terrier
last week...and I think it is probably my favourite first book in any of her series (of which she has many). It's by far the most ambitious - and I think the longest at 584 pages. How did I put it on Goodreads? "
It's got the epic story line of In the Hands of the Goddess, and the unflinching grit you get in Lady Knight, plus some new magic we haven't seen before, a la the Immortal series." (Yes I did just quote myself. I CAN DO THAT. BECAUSE I SAID SO.) So basically I loved it even though I wasn't sure in the beginning. (Beka comes off quite cocky in the opening). Also I LOVE that this is about one of George's ancestors and how did I not figure that out just from the title? It's about a COOPER. Who else would it be about!? I'm listening to Bloodhound right now, and it's shaping up to be just as good as Terrier. I'm a little nervous because I heard a lot of people didn't like the conclusion to the trilogy very much (also I'm not positive my library has the third book on audiobook...) but hopefully whatever it is about the third book won't bother me!
In novel form I've been reading Outlander, which is taking me WAY LONGER than I thought it would! Like I know 627 pages isn't anything to sneeze at, but considering how much reading I can get done at work, I wouldn't have expected this to take me all week. I'm technically not finished yet, but I imagine by the time this posts I will be. Some of this may just be big book fatigue - I stupidly started reading this right after A Clash of Kings....so that's a lot of big books in a row. (I think I was subconsciously trying to make up for all the picture books haha). It's also not what I was expecting at all. I think I was expecting more time travel (and there are like 7 more books to go, so I am fully expecting that to happen), and CLEARLY my prediction is not going to happen (god I'm so bad at those!). I certainly was not expecting so many sexy times, or for SPOILERS
Jamie and Claire to get together in the first half of the book. It's 8 books long! I wasn't even expecting it to happen for the first entire book! I was totally expecting more of a slow burn romance, and while I'm not disappointed by this turn of events... I think I was really looking forward to that slow burn.
END SPOILERS. And having unexpected sexy times in your book while at your work is not necessarily a very pleasant surprise haha. So I don't know. I don't dislike it, but I'm not really loving it either. A family friend gave me the first 7 books though, so I'm definitely going to keep reading and hopefully I'll change my mind on it all. But definitely a break from big books for me for a while!
And that's what's been going on in my bookish life! Anything fun in yours? And while you're at it, don't forget to check out La La's blog, and maybe join in on the fun next week!