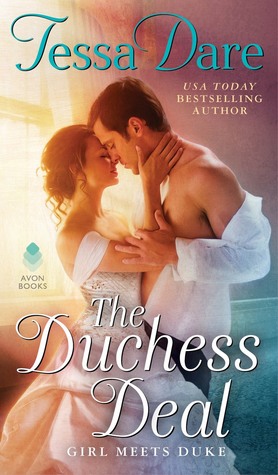 Ash is a severely scarred man - gruesome facial scars from his time in the war. He's withdrawn from society, since he generally inspires disgust and fear. That being said, he does still need an heir, or all the tenants who depend on him will be SOL when he dies. Emma, fortuitously, comes in at just the right time. She is a vicar's daughter, who through circumstances has become a seamstress. She's extremely compassionate, but isn't a pushover. She challenges the Duke at every turn, and you know I love me some banter. Even though the Duke is definitely an Alpha (which isn't usually my favourite set up in romance, but does tend to come with hate/love territory) consent is a big focus (in a way that feeds the heat!) which was a big bonus for me.
For readers who like: love to hate, marshmallowy alpha men, fluff, banter, non-lily white/naive ladies
Jane has loads of money, and is trying to wait until she is of age to come into her inheritance so she can take care of her sister. Which means making sure she's pretty well unmarriagable - if she gets married, her husband would have complete control of her finances. So Jane goes out of her way to be as offensive and wearing the most ridiculous clothing possible - without making it seem like she was doing so on purpose. Oliver is concerned with his political career - and falling for Jane would seem to be career suicide. So lots of "oh no but we shouldn't" feels in this one. Bonuses: Jane is a fat heroine, and there's a secondary romance with an interracial couple!
For readers who like: Feminist romances, body type diversity, siblings important to the story line, Romeo and Juliet set up (the can't be together, not the dying and melodrama)
This is hands down my very favourite romance novel. I will warn you before reading any descriptions of this one that it does spoil the identity of a character that's featured in all the previous books, so I'm not going to give away details on this one. Here's what you can expect: Sarah MacLean pretty much always writes romance that is
A. Hot as hell
B. Full of banter
C. Actually has stuff OTHER than the romance going on.
For readers who like: gender bending, non lily-white/naive ladies, cat and mouse relationships, heroines with children
This one is for those who aren't looking for fluffy humour in their romance. Hoyt can tend towards melodrama, but if you are looking for a strong secondary story line outside the romance and more world building than you generally get in a romance novel, this is for you.
Julia Quinn IS the quippiest of quippy banter! If you want fun and funny in your romance - this is the author for you. This also somehow manages to mash up girl-next-door and love to hate which is basically the best of all possible worlds! You get awesome strong familial relationships, plus all the sparks and banter of love-to-hate.
If you're looking for something more serious, you should check out Mary Balogh. She's not in it for the quips and banter, but almost every character has strong familial or platonic relationships which is always really important to me. She also usually has if not a main character, than someone close to the main character that has some sort of disability and she writes it with such sensitivity. It ranges from scarring to PTSD to inability to walk. One of her series is actually centered on kind of a....therapy group of sorts. In any case, I will admit as an able bodied person I could be wrong, but from what I can tell it seems to be well researched and written well and sensitively. This particular series focuses on a girl's finishing school and it's instructors!

For readers who: tend towards less fluffy romance, governess/duke pairings
Ok wait...I lied THIS is my favourite romance. It was my first Sarah MacLean and damn it, it's just SO GOOD. Sarah MacLean has the humour of Julia Quinn, but she doesn't get quite as silly (so if silly is your go to, Julia Quinn is your best bet). This is a classic wallflower goes out of her comfort zone situation, so needless to say shennanigans and sparks ensue!
This one is actually another kind of Beauty and the Beast set up actually...I wonder if that's a Tessa Dare thing? (Clearly I have a thing for this set up) It's delightful - there's banter, there absolutely ridiculous romance novel names (Isolde Ophelia Goodnight and Ransom in case you are wondering although they make fun of the names, don't worry), and the heroine leads the romance.
Destiny's Embrace
(Destiny #1) - Beverly Jenkins
What historical romance list would be complete without Beverly Jenkins? I will say that it's very hit or miss for me. This one was a hit, the one set during the Revolutionary War, not so much. Bonuses in this one: not only is it written by a WoC, it features an interracial couple (whaaaat) and since it's set in the West when people were just settling out there which means she manages to keep the story fun. It doesn't ignore race, but let's be real it's a challenge to write a fun romance (because I imagine I'm not alone in using romance as an escape) when slavery/Jim Crow laws/interracial relationships (although probably not the one in this case) being illegal are all a thing. It's a hard balance to strike I imagine. Bonus here? I feel like most historical romances are set in Britain or maybe in glamorous New York. This one is set in the West. It's a completely new set of expectations and rules!
For readers who like: new historical romance settings, interracial relationships, authors who are WoC, Westerns
And that's my list! Leave me a link below and I'll check out yours! And I'm always in the market for new romances. I'm PARTICULARLY in the market for lesbian historical romances...but not depressing ones like Fingersmith (also WHY DON'T THERE SEEM TO BE ANY OF THESE), interracial/non white historical romances. I know Alyssa Cole isn't on this list - it's only because the wait at the library is so damn long - I've been on the waitlist since it came out almost a year ago *sobs*. Also - any asian male/white person pairings are a bonus! Nothing like a white girl dating a Korean to make you realize there's definitely not much of that out there.
Point is: PLEASE HELP ME I'M IN A ROMANCE HOLE I NEED MORE.