Man, I can not tell you how cathartic it is to be writing these! I can feel the angry book ghost dissolving as I put these out. And after this, I'll only have 3 more books and I will have reviewed all the books I was supposed to on Netgalley! Yay! I'm a decent human being again!
Dark Spell (Winterbringers #2)
- Gill Arbuthnott
Rating: 3.5 stars
I didn't even realize this book was the second book in a series until I started this review. So if you want to read this but haven't read the first book, have no fear! This reads just fine as a standalone.
This is a fun read if you're looking for a ghost story. The writing is a bit clunky, especially in the dialogue, but the plot is fun. It feels like the book is aimed at the younger end of YA, particularly with the refreshing lack of romance, so I'd recommend this for middle schoolers or people just getting into the young adult reading age. It's perfect for middle grade kids who are looking for some paranormal thrills without being too terrifying or bogged down with cuddly demons or sparkly vampires as love interests.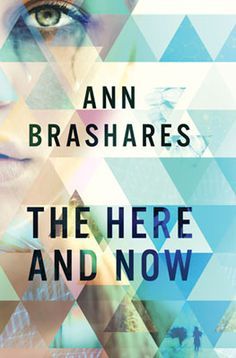 The Here and Now - Ann Brashares
Rating: 3.5 stars
Well, I have to say this wasn't nearly as bad as I was expecting! Maybe it's because unlike most of the reviewers I've read, I'm coming from a place of low expectations instead of straight out of The Sisterhood with really high expectations. I didn't think this book measured up to Sisterhood, but it was a fun story, lots of action, and a quick read. Did it bring anything new to the table? No. Except the part about the mosquitos which I had never considered before and am now going to be paranoid about. I didn't hate the romance, but I also wasn't hugely invested in it either (probably because of how it was originally presented in the prologue. Yergh!)...so SPOILERS

I wasn't really upset by the ending/star crossed lovers aspect of things. It was more of a ...meh, that sucks, you'll get over it sort of feeling.

END SPOILERS Anyway, basically this book was a good read and I didn't ask any more of it than that, so I enjoyed it
External Forces (The Laws of Motion #1) - Deborah Rix
Rating: 3 stars
I feel a bit bad for this book. I think it suffered a bit in my enjoyment and rating because I read it directly after finishing The Here and Now, and it wasn't the best decision I could have made. That being said, I'm not certain I would have rated it more than a half star up, so maybe it doesn't matter. It has a lot of easily seen parallels to Divergent, which also wasn't my sort of book. And unfortunately, it doesn't bring anything new to the table on that front. Deviant even looks like Divergent. Trainer/MC love, transition from a religious, modest community to one where you wear scandalous clothing/tattoos...it all felt a little too familiar. It is satisfyingly brutal when it wants to be which perked me up considerably, and the plot here is just as action packed as Divergent, so if that's your sort of thing you'll like it. Unfortunately for me, it's not as I'm a character based person. The ending felt like it was trying to end on a cliffhanger, but mostly just felt unfinished to me, so it's left me interested enough to want to know what happens next...but probably not interested enough to search out the next book.