Kushiel's Dart is probably one of my most recommended reads and one of the most mentioned series on this blog since I first discovered it in 2013. There are so many reasons to love this book - its detailed world building, beautiful prose, balls-to-the-walls action (after the opening which is a slow build), but one of the things I love most about this is it's uncompromisingly sex positive and diverse characters. (Can I also say that's it's the only high fantasy novel I've read that's completely sex positive? How is that so rare? I READ A CRAP TON OF FANTASY GUYS.) Sex is actually an important part of the world building, which sounds weird (or trashy) I know, but I promise you it's not and it makes for some of the most interesting (and fun!) world building I've read. The politics are intense - so if you like George R.R. Martin but wish there were less rape scenes, this is the book for you. This book also has MORE THAN ONE BI CHARACTER. Which I love - bi representation is both mostly nonexistent, or when it's not features a character who is evil and/or unfaithful. Jacqueline Carey not only crafts these wonderfully flawed characters, by having more than one bi you get to see more than one representation.
What? Did you think we were done with Jacqueline Carey? This series also features not only a bi main character, but more than one bisexual character. Can I reiterate how rare that is? And this series shows just how talented Carey is as an author - it is completely different than her Kushiel series. Where her Kushiel series is immense and dark, this series is significantly shorter and just plain fun. Sadly I get the impression that maybe sales weren't doing so hot so she wrapped the story up really quickly in the third book, but if you're looking for something really fun I definitely recommend this! (I would also like to add that all of her books have racially diverse characters too, and I think trans characters?)
*squees* Oh Magnus my darling fantabulous character!! Even if The Mortal Instruments was not up your alley (and it had some SERIOUS ups and downs for me) you MUST read these collection of short stories. Besides the fact that SRB the Queen of Ripping Hearts Out and Stomping On Them was involved, Magnus is just one of the most delightful characters I've ever read. This is ridiculously funny, and heart breakingly sad and ughhhh guys did I mention Magnus is basically the best?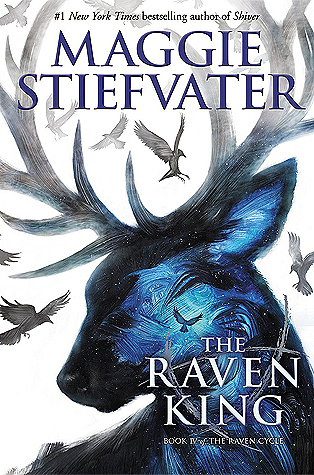 There's a reason that people were all over this ship well before it actually appeared on screen. The chemistry between all of the main characters is so compelling, and Stiefvater has some of my favourite prose of all time.
Two years ago (maybe even a year ago?) I would never have picked up a series like this. I kind of sneered internally at paranormal fantasy (especially the sexy cover kind)...who even knows why. It would appear that any time I think I'm over a snob phase it turns that secretly I'm still harboring a few. That being said, if you look at this list it's pretty clear what genre you are most likely to encounter a bisexual main character. Paranormal fantasy wins that by a long shot. Some of that may be because I don't read a lot of literary fiction or contemporary literature. But it's no surprise that over the past year my reading of paranormal fiction has sky rocketed, as has my respect for the genre. If you're looking for a series with some fantastic character development, racial diversity and well and some kick ass bisexual characters, this is the series for you. Bonus? They have multiple spectrums of sexuality - where someone might romantically love someone, but not physically attracted to the gender, and that is even more rare than finding a bisexual main character.
The only sad thing about this list? I couldn't find more than 5 books with a bisexual main character. So help me out - send me your recs! (Bonus points if they're non-white or a dude, Magnus is my only character who fits either of those)