For the first time, I am in the unique position of having to choose between getting an audiobook or a hard copy.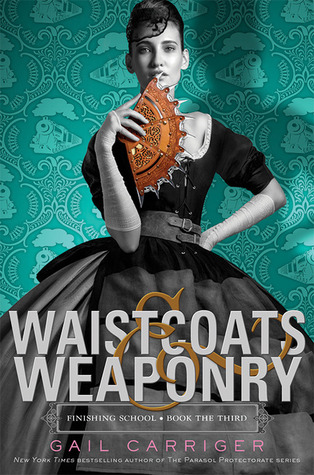 When I first listened to Etiquette & Espionage, I knew next to nothing about the series. In fact, I don't even know why I decided to use that as my free audiobook from Audible.com. I must have seen a recommendation somewhere, because honestly for how charming these books are, I hear very little about them. Luckily, I forgot to cancel my audible subscription so I ended up buying the second book in the trilogy as well before canceling my subscription. This puts me in a bit of a (admittedly first world) dilemma. I knew so little about these books that I didn't even realize they were a trilogy, let alone an unfinished one! I finally finished the second book last month and was pleased to find out that luckily the third book is coming out next week. It only occurred to me
this
week that since I'd listened to the series so far, it might be kind of weird to start reading it!
There's a few problems with getting this on audiobook, however:
1. Audiobooks are
expensive
.
2. I pretty much exclusively listen to them in the car, which requires them to be in cd format. (This series I actually own digitally, so I listened to them a lot when I was in the shower/cleaning, but it takes
forever
that way, since mostly my showers are like 5 minutes unless I'm washing my hair)
3. Ergo, I'd ideally own this in cd format, but then my formats won't match since I own the other two digitally. So that's not entirely ideal either I suppose...
3. Did I mention they were expensive?
On the other hand:
1. I
love
the narrator, and I'm glad this was my first delve into audiobooks because Moira Quick is absolutely perfect.
2. I already own the first two books on audiobook, and I do like having all of everything in sort of the same format. And it would feel weird to have the first two on audiobook and the third one on my bookshelf.
3. It wouldn't kill me to make some free time to listen this, even if it means I won't get to it anytime soon.
4. The library isn't getting this book anyway, so regardless of all my options, I'm going to have to buy it. Might as well buy it in the matching format!
We'll see. I mean it's not like I'm going to have moneys/time to listen to this soon so I suppose just because the book is coming out (came out this week?) doesn't mean I have to make a decision right now. But I'm curious - do you guys mix and match how you read books in a series? Or do you stick to one or the other? Does it feel weird bouncing between the two?
(And under rhetorical questions, WHY doesn't my library have a cd audiobook of the Abhorsen trilogy? Tim Curry narrates! I want it!)
*P.s. I'm in the market for any recommended book narrators/ones to stay away from/books that are particularly good as audiobooks! I'm limited by what my library has, but other than the Garth Nix trilogy, they seem to have a good selection at least so far!