I've discovered somethings strange about my reading habits: I absolutely never read horror because I'm a weenie pants...but apparently I love zombies.
This isn't limited to my reading habits. I don't watch scary movies, but over the years almost every scary movie I've ended up stumbling upon by accident (or by force) have been zombie ones. I'm not sure if my tolerance for zombie movies has eased the path for my love for zombie books or if it's the other way around, but either way I find it curious. Perhaps I can handle zombies better because they are another form of an apocalypse, and I do tend to love my apocalyptic storylines.
But why zombies? I mean there are loads of reasons why I CLEARLY shouldn't like them
1.
My inability to handle anything remotely scary
(admittedly, I usually have a good week of zombie dreams after encountering them in stories. But they're more adventure than terror?)
2. My inability to handle anything graphic even if it isn't supposed to be scary. (Guys. I can't even watch
Bones
right now. Anytime they get to a gross part I have to mute the tv and look away from the screen)
3. It's a zombie apocalypse. It's usually really bleak. Did I mention
how long I usually procrastinate
when I know a book is going to be depressing?
4. It's probably unhealthy for me to get this obsessed with survival techniques and government conspiracies.
5. The more I read/watch zombie things, the more I am 100% certain that it would be a miracle if I managed to survive past the first wave. I don't run. I don't kill anything. ANYTHING. Those giant gross roaches? I put them outside. My mortal enemies? (Aka house centipedes. Seriously. These things are freaking TERRIFYING) Nope, not even them. So giant decaying people? Not likely.
So...what's the appeal here? I have a few theories.
1. I see zombie apocalypses as an equivalent of situations like we have in West Africa right now. That and crazy mob/survivalist situations. I'm obsessed about trying to plan for these situations.
2. My love for government conspiracies.
3. ...you know the more I'm thinking about this, there's clearly something wrong with me. Who thinks about these sorts of things all the times in preparation for a situation like that?!
4. I've just read some REALLY phenomenal books, and they have happened to be zombie ones.
Growing up, the
Abhorsen trilogy
by Garth Nix was one of my absolute favourite series of ALL TIME. (Clariel!!! So soon!! I'm FREAKING OUT.) It's definitely not your traditional way of zombie telling. In a way, it's the perfect combination of everything I love - zombies, fantasy, hint of romance, awesome side characters, great character arcs, and straight up badass heroines. And how awesome is it to combine magic and zombies? It's also the only zombie series I've read that doesn't have a medical reason behind the zombies (or an implied one). It also has fairly sentient zombies, in that the head zombie is well...
there's a head zombie
. So while this book falls on the edges of traditional zombie telling, really the only qualification needed to be a zombie book is undead things.
The Newsflesh Trilogy
is what really set me off on the zombie obsession.
Meg
gave this to me as my
Secret Santa present
last year, and as the first books I read this year, they still stand in my top ten books of the year - in fact, they might even be my #1 choice for this year. If I thought that zombie books were going to be purely action packed with little character development or world building, this series completely proved me wrong. I can not emphasize enough how AMAZING this series is. The author makes some really shocking choices - and then commits to them. I've never been so impressed and surprised at the same time (excepting Queen Sarah J. Maas of course). If there is one zombie book to try, this series is IT.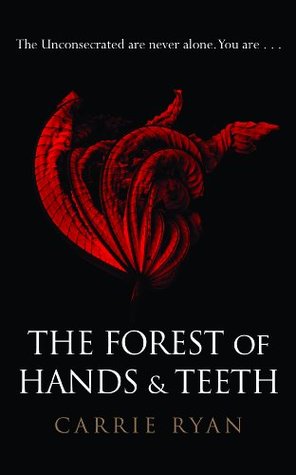 Technically I've only read the
first book
in this trilogy, but I've got the next two checked out so hopefully remedy that soon. If you want your feelings spared at all, this is definitely not the series for you. It's why I haven't finished the trilogy yet - ordinarily I would just read straight through (although I am pleased to say that the first book at least reads like a stand alone and I LOVE the way it ended), but after the first book I definitely can't read these at work. YOU try explaining to people who walk in the door that "No, no I'm fine, just one of my favourite characters was just killed by a zombie".
This is just as action packed as the other series, but it's also a lot more reflective, and the way the romance is treated is amazing. When I first picked up the book I was ready to roll my eyes, but as the book develops it's just...I don't want to spoil things, but even if you roll your eyes for the first few chapters, give this book a chance. The relationships - family, friends, and love interests are messy and complicated, and that isn't diminished by the fact that they are fighting for their lives. It's basically a perfect balance for me - definitely action packed, but some of the best and most drastic character growth I've seen in a long, long time.

Hey guess what? Don't google zombie images if you want one for your blog. #Nightmaresforever. Also I just realized it's October, aka the perfect month to post about zombies. Look at my subconscious, it's got everything covered for me! And man this was a long post even after I cut a ton out of it...sorry! (I may have run at 5:30 this morning so I wasn't late to work. It's clearly messed with the natural order of things and now my brain is out of control. MAKE IT STOP.)
Thoughts on zombies? Favourite zombie books I should read? Shoot! (But remember, only head shots kill zombies. Friendly reminder of the day).