Alexa Loves Books
is hosting this AWESOME event, where all of us book bloggers get to spread some of the love! I'm super excited to be a part of it (...although I'm going to be at appointments a lot of tomorrow, and working with the kids on Sunday, so we'll see how much I get to be around. Boooo!) In any case, let's get to it!
1. What's your name?
For those of you who are new to the blog, I'm Elizabeth!
2. Where in the world are you blogging from?
I currently live on the East Coast of the US, although that's somewhat recent. (I lived in Chicago for two years before that). I've lived pretty much everywhere in the US except the Northwest at this point haha!
3. How did you get into blogging in the first place?
I don't have many reading friends in real life, and of them only one reads a lot of the same books I do (i.e. young adult). And as I'm sure most of you will agree, there's SO MANY FEELS in YA books and I
needed
to have people to fangirl with.
And lo and behold, here I am!
4. How did you come up with your blog name?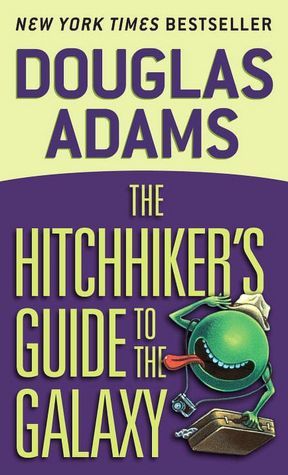 so long and thanks for all the fish is both a quote from the first
Hitchhiker's Guide to the Galaxy
and the title of the fourth book in the series. I originally used it because of the quote and felt like a bit of an idiot because I don't actually like the later Hitchhiker books very much haha! The first two are in my favourites hall of fame list though.
5. What genre do you read and review the most on your blog?
Really I read everything. Almost everything I read is young adult, but I do read all audiences (if you're a goodreads friend, you'll have noticed the influx of picture books lately) and all genres. I'm particularly fond of fantasy though...probably 75% of what I read is fantasy haha. I do at least
try
to be well rounded...
6. What other types of posts do you do on your blog, apart from reviews?
I actually stay away from reviews for the most part - I totally got burned out on them. (Although I've been catching up on....embarrassingly old Netgalley reviews...) I do a lot of
discussion posts
, and on Sundays (whatever Sundays I have time for it) I do a
personal post
on what's been going on in my life and a round up of all sorts of blog posts and articles I found around the web that I like. I've also started doing
LaLa's
Tell Me Tuesday
meme where you talk about what books you've been reading/looking forward to. It's super low key, which makes it perfect for me!
7. Best blogging experience so far?
Definitely meeting all the awesome people! I actually got to meet one of my blogging bffs, Shannon from
Rex Robot Reviews
, in real life this summer. We forgot to snap a picture (I WILL remember next time!), but I was SO excited to meet her! Also we ate delicious dim sum which I am always excited about haha!
8. Favorite thing about the blogging community?
Did I mention that I basically love talking with all you book bloggers? Comments are my favourite part of the community - whether they're on my blog or whether I'm talking to someone on their blog or on Goodreads, talking to you guys is the whole reason I started blogging in the first place!
9. Name the 5 books you're most excited for this 2015!
1.
A Court of Thorns and Roses
by Sarah J. Maas - Because, HELLO it's Sara J. Maas. AND a fairy tale retelling.
2.
Queen of Shadows
by Sarah J. Maas - This series is basically the best thing. Ever.
3.
Soulbroken
by Heather Brewer - I'm so excited she's getting to complete the series! It'll be ebook only, but since originally it was going to put off entirely, I'm not complaining!
4.
Hello I Love You
by Katie M. Stout - I don't usually pay attention to debuts, but as an avid K-Drama watching, K-Pop listening person, I am SUPER freaking excited about this book.
5.
The Heart of Betrayal
by Mary E. Pearson -
Shannon
actually gave me a copy of this book to read on my flight home after I met with her, and I was
immediately
hooked.
10. What's an underrated book or series that you think everyone should read?
I've talked about
Abarat
at length
on the blog
- it's always my go to answer for this question!
11. Which book boy or girl would be your book BFF?
See, ordinarily I'd say Hermione or Celaena, but I honestly think we'd butt heads a lot. I do, however, think that Kami Glass from
The Lynburn Legacy
would be the best friend EVER. She's witty and loyal and tenacious. All good friend things!
12. Apart from reading, what are your other hobbies or interests?
Well, I'm a musician so most of my free time is eaten up by practicing and making reeds (I play the oboe), so it doesn't leave much time for any hobbies outside of this one!
13. Apart from book shopping, what else do you like shopping for?
Shoes. Definitely shoes.
14.At a party, the DJ suddenly changes the song – and it's your song. What song would be playing?
I am completely unashamed by my love for line dances, and this one happens to be my favourite of the lot.
15.Pick out either a book you want turned into a film/TV show, or a film/TV show you want turned into a book.
There have been rumors for a while now about a
Kushiel series
in the works as an HBO show, and I've never wanted something to be adapted SO BADLY before. In fact, if I didn't have Abarat as a go to answer for an unappreciated series, this would be next on my list of series I really, really wish more people knew about. Do you like Game of Thrones? Are you down with sex positivity? Go read this.