I started posting short blurbs on twitter to see if it would help motivate me to start writing more (I can no longer use free time as an excuse because if I've been able to watch as much TV as I have in the past month? I could DEFINITELY be blogging again! ...maybe I'll start doing TV blurbs too...)
Rating: 4.75 stars
I did not like the first novel in the series, In the Woods, very much AT ALL, which is a fairly unpopular opinion. I think a large part of it was that I was in the mood for more of a cozy murder mystery, which these books are definitely NOT. It doesn't wrap the story up in a neat little bow at the end...in really any way. Normally I love open endings, so I'm not sure how much of my dislike was warranted and how much was a mood reading issue. Knowing what I was getting into for this book helped a lot I think. It also helps that I like the protagonist of this one a lot, and I didn't love the protagonist of the last one. It was twisty and turny and I thought it was really interesting that in a lot of ways the villain here is a mirror to the villain in the last book. I can't really expound on that without spoilers, but I'd love to chat to someone whose read both books and hear their thoughts!
Rating: 4.75 stars
There's something indescribably lyrical about the way Spanish speaking authors write. Every single one I've read has this lush, magical quality to their writing, and Zafon is no different. The Shadow of the Wind (the first book in the series) remains one of my all time favourite books in no small part because of the gorgeous writing. It's still my favourite of the three books, but all of them are gorgeous and interesting. They're also stylistically different - the first one is more of a mystery, the second gothic, and this third one is...I guess more like straight historical fiction. It's really cool you can read the books in any order too - the details just get revealed to you in a different order, which is really incredible!
The Watchmaker of Filigree Street
by Natasha Pulley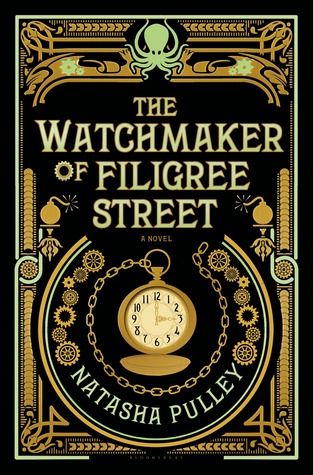 Rating: 5 stars
I can already tell you this is going to be one of my favourite novels of the whole year. It's even a contender for my favourite book of the year. It has this quiet, introspective quality to it that reminded me a lot of
Station Eleven
, even if they are completely different novels in content. But like Station Eleven, the quietness of the novel manages to really make an impact. The intersection of English and Japanese culture has a great deal to do with the book, so of course we have some Japanese main characters in a Victorian era England is delightful. There are some other things that I LOVED about this book, but I can't say much because of spoilers. If there is one book on this list I hope someone else reads, it is this one!
An Equal Music
- Vikram Seth
Rating: 2.5 stars
On the one hand, this is one of the best written fiction books involving classical music I've read. The author really
gets
it - the way he writes about practicing and performing music is spot on, as well as how he writes about how being a member of a chamber group is this weird family dynamic. I've really never read any other book that was so spot on about the whole classical music aspect of things.
On the other hand, it's literally every single thing I hate about contemporary literature. Anything that wasn't about classical music was about the MC's obsession with his old girl friend and they're all very unhappy and there's affairs and they stay very unhappy and then nothing happens, the end.
Yes Please
by Amy Poehler
Rating: 5 stars
I read this on audiobook, and I firmly believe it is the only way it should be read. I don't know how many of the asides made it into the book, but hearing Amy read it herself is just
perfect
. I will say that I am a huge fan of her work, especially Parks & Rec (guys I'm pretty sure I had an entire post that was just
Leslie Knope gifs
) so some of it is that I'm used to hearing Amy's voice.
This book was so empowering and uplifting and it came to me at the perfect moment. I'd had a really rough week at school - I had my first observation, and it did NOT go well, a parent had gone off on me and pulled her child out of the music program, I was stressed out about the SEVEN WINTER CONCERTS I had to organize...all in all just a freaking stellar week. And this book was just so funny and honest and it really managed to line up the chapters with exactly what I needed each day these events hit. If there was ever a time I believed in a higher power, the timing of this book would have done it.
The Duchess Deal
(Girl Meets Duke #1) by Tessa Dare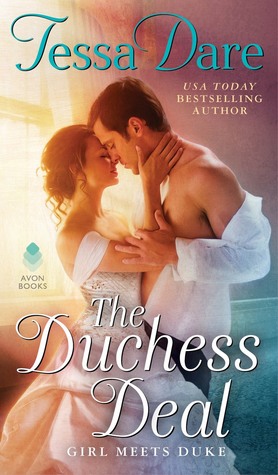 Rating: 5 stars
I loved this. Like super loved this. It has a very Beauty and the Beast set up without the guy being abusive (which is usually how it comes off). Dare doesn't shy away from the Duke's scars, they never improve, there is no magic solution and that's always really important to me when I'm reading a novel. Despite her compassion, Emma is also no shy pushover - she's gone through some serious hardships and is more or less a self made woman. Two strong, independent, well rounded characters + serious chemistry? Count me in!
The Day of the Duchess
(Scandal & Scoundrel #3) by Sarah MacLean
Rating: 3.5 stars
This is such a cool concept - historical romance...divorce! There's actually a lot research behind it (I got to hear Sarah MacLean talk about it at Baltimore Book Fest!) and it's definitely not something I think we've seen written about before. And it was a good story, I just don't have a lot of tolerance for as much back and forth as we got in the story. MacLean is and always will be my favourite historical romance novelist (and the first book in this series is one of my all time favourite books btw), so I may be rating this one a bit harshly out of ridiculously high expectations.
I did it! I wrote something! Admittedly, a bit sparse, but it's a start. I'm trying to start writing more and watching tv less, because I'm not loving that I've got 0 creative spark and I actually have TIME to be doing stuff, so I'm going to ATTEMPT to dip my foot back into the blogging pool again. Especially (as you can see from this list) since I'm having an extraordinarily good reading year so far, and I have so many awesome books to share with you!