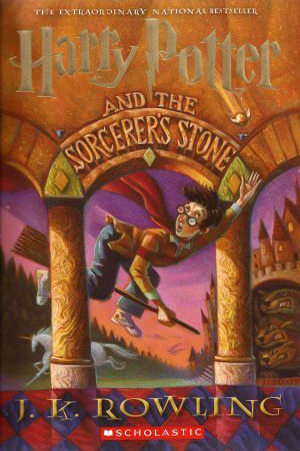 The Harry Potter series is the probably the most obvious series to put on this list, and at the same time to most widespread to everyone else who would make a list like this. This doesn't make it any less important and essential to this list. How many of us grew up
with
Harry Potter? I'm constantly reminded how lucky I am that it came out when it did, because my childhood in many ways was shaped by Harry Potter. As I came into my own, so did the characters in Harry Potter, so it honestly feels like we
actually
grew up together, as weird as that may sound. And having Hermione to look up to as I grew up was really fantastic. While for the most part being known as a bookworm didn't bother me, it wasn't particularly comfortable either. It meant that people made judgements about who I was..simply because I actually read books. It also meant a lot of teasing, although I'll make no claims to being bullied - almost all the teasing was well-meaning. I think I probably would have been a little more sensitive to it if I didn't have a character like Hermione around - she was a total bookworm, and she was AWESOME.
I can't remember the first time I read this series, but I generally place finishing the third book in my middle school years, because my brain was like...whaaaaaat?! Don't get me wrong - I absolutely adore The Golden Compass. It sets up some truly amazing world building, and the characters are just *sighs happily*. The Subtle Knife feels too much like a middle book for me to easily separate it from the first or third, I often muddle what happens in which book. But the third book...the third book was a life changer for me as far as life philosophies.
SPOILERS ENSUE. Sort of?
I've always had issues with the Catholic church (the church I was raised in), but it wasn't until probably middle school that I really started questioning things. As a kid I was mostly just pretty bored (as I imagine most kids are anywhere they have to sit for an hour quietly lol). When I read the third book my world turned upside down. God could be a phoney? It was
ok
to think there was no such thing as God? I'd always thought people just passively went to church and said they were Christians, whether they were faithful to the idea or not. Or if not Christianity, some other religion. That it was acceptable to think otherwise was
incredible
to me. I can understand why the Church feels threatened by this series - I am kind of a perfect example of why they'd hate the series. That being said, it's not like I suddenly became an atheist after reading this (and I'm not an atheist now). I did a lot of questioning, and then decided I'd still try things with the Church. I don't credit this series from taking me away from being a Catholic - I think I'd have gotten there on my own any way - but I do credit this series as the one that opened me to questioning not only religion, but a lot of basic beliefs I've held - even now.
Plus, this book features my favourite doomed couple ever. And it was beautiful, and it broke my heart.
This series was the start of a life long obsession love for Tamora Pierce. Beyond that, this series pretty much defines the way I see the whole world. My introduction to Alanna was pretty much my introduction to how I view feminism. Alanna is badass, strong, but she is more than all that. She embodies all that it means to be a woman - and that includes being badass and strong, but it doesn't exclude things usually considered more feminine, like caring about how you look or being nurturing. (Not that I think those things are feminine, it's just generally viewed that way by society as far as I can tell). And it doesn't mean having to be all those things either. Women don't have to be super heroes. While Kel has the patience of an angel, the same can not be said of Alanna. All the characters here are treated like people, not a stereotype of gender identity, sexuality orientation, race, or class. Really every single one of Tamora Pierce's books fall on this list, Song of the Lioness was just the first series I discovered by her. This also features a heroine who has multiple sexual partners, and it's shown as a positive not shameful thing. Which is SO, SO important to read when you are growing up!
I love all of Robin McKinley's works (really guys, this can't possibly be a surprise!), but Deerskin stands out from all of her other works for a very specific reason that has little to do with the book itself and more to do with me. This is the book that taught me how much children (and people) can self censor when reading. This is the book that I think of any time someone wants to talk about censoring books. The first time I read this, and maybe even the second, there's a fairly big SOMETHING that happens that just went right over my head. I had a totally different explanation for what happened, and it's really frelling clear what happens in the book - I guess my brain just decided that nope, that's not what it wanted to interpret. And I was definitely old enough to know what had happened, I just wasn't ready to understand it, I guess.
Spoilers. Like for real. Really, really.
This book is based off the fairy tale "Donkeyskin". If you don't know it, it's about a father becoming obsessed with his daughter and raping her. In the Robin McKinley book, I understood that her father was attracted to her. But when it comes to the rape scene, I thought he ended up just beating her up, but that she escaped without being raped. So when it comes to the scene in the forest where she miscarries, I was a bit confused why having what was apparently a super bad period warranted so much attention, but I just went with it. I'm pretty sure I was in high school when I read this, possibly junior high school? Either way, that's old enough (definitely high school!) to know what's going, especially since the book really. isn't. vague. I reread this in undergrad and when I got to those points I was like...what??? How on EARTH did I think that's what happened? Like I seriously can not understand how I came up with the scenario I did! I was pretty stunned. And that's when I began to take self-censoring as a legit 100% real thing...and started wondering what else I'd misinterpreted.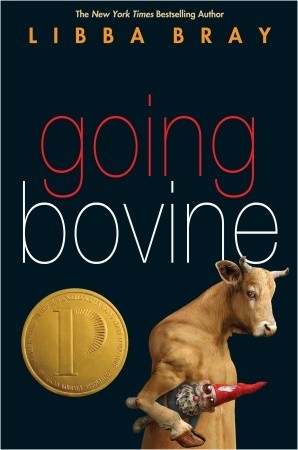 All the other books on this list are books I grew up with, books that I own and have reread so many times they're falling apart, so to have a book I only read a couple months ago take a spot there were many, many other books that I had expected to put here should tell you just how much impact it had on me. It's also the only book on this list that I listened to instead of read. (I'm quickly becoming to believe that I actually absorb way more
everything
when I listen to books) It has made me think really hard about what I believe life and reality to mean. And...it's one of two books that I just don't want to talk about, which is really strange for me. (The other is The Book Thief) I have mentioned this so many times on the blog since I read it...but I've never really talked about it. I think it's just that my reaction to what was written was so personal, and hard to describe (much like the book itself). So much of this book was totally revolutionary for me. And I never thought I'd be so attached to a garden gnome.
Bonus:
I would definitely consider both of these books worthy of huge sections of this list. Luckily I've already written pages about them :)
I've
spoken on the blog
before on how Madeline L'Engle opened my eyes to the way spirituality and science can meld perfectly, and how specifically her book A Ring of Endless Light has always comforted me when my life has gotten out of control and confusing. I wouldn't consider myself religious or spiritual now, but it gives me hope that someday I might find something that works for me on that front.
I also recently talked about how
Fire
helped me start
dealing with my anxiety and fear
after I had
harassment issues.